Visigothic Art in Palencia
Itinerario del viaje que proponemos incluyendo el mapa del viaje, los monumentos a visitar por día de operación, las distancias parciales y los kms totales del viaje. Si desea acceder a la descripción completa de algún monumento pulse sobre su foto. Si desea completar y reservar este viaje pulse "Crear viaje a medida"
1 Dias
In Palencia we will visit two of the most interesting maintained monuments from the 7th century, times of splendor of the Visigothic art: The Crypt of St. Antolín a  
nd the Basilic of St. Juan de Baños. We propose a two day long trip that will let us roam through the city of Palencia with its magnificent  Gothic cathedral or some examples of Palencian Romanesque art.
 -Planned visits: St. Juan de Baños and the Crypt of St. Antolín. 
-Total approximate distance from Madrid: 515 Km. 
-Type of recommended stay: Rural accomodations in the surroundings of Palencia. 
– Other recommended visits: Cathedral of Palencia, called "The Unknown Beauty", St. Martín de Fromistá, St. Mª La Blanca in Villacázar de Sirga, …
Mapa del viaje
Provincias de la Ruta:
Palencia
Guía del viaje
Día 1
This church, beautifully preserved, is a clear example of the search on behalf of the Visigothic architects of a shape for their churches better adapted to their rites than the typical Roman basilic. It consists of a basilical plan with three naves and three independent chevets, one in the central nave and the other two out of the lateral naves.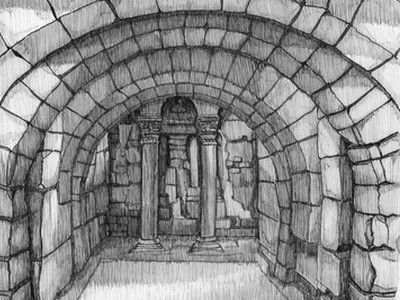 It is under the cathedral of Palencia to which it gave rise. It seems it formed part of a larger construction, possibly with a double apse similar to the mausoleum of La Alberca. At present it consists of three irregular sections connected with large horseshoe arches that spring out from the floor. The last section is blocked by a wall behind three little arches upon columns with capitals and Visigothic cymatiums.
Portal de información sobre la Historia y el Arte medievales, con la descripción de más de 600 monumentos, que ofrece al viajero la posibilidad de preparar los itinerarios de sus viajes a monumentos de ese periodo.