Asturian and Mozarabic Art in Cantabria
Itinerario del viaje que proponemos incluyendo el mapa del viaje, los monumentos a visitar por día de operación, las distancias parciales y los kms totales del viaje. Si desea acceder a la descripción completa de algún monumento pulse sobre su foto. Si desea completar y reservar este viaje pulse "Crear viaje a medida"
3 Dias
We propose visiting the first day in Oviedo St. Julián de los Prados and the Holy Chamber of
the Cathedral of Oviedo, built in times of Alphonse the Second (791-842), and two Ramirense buildings (842-850), St. María del Naranco and St. Miguel de Lillo. We shall devote the second day to the two most meaningful churches of Alphonse the Third (866-910), St. Salvador de Priesca and St. Salvador de Valdediós, and on the third day we shall visit St. María de Lebeña and St. Román de Moroso, two Mozarabic churches from the tenth century.
Mapa del viaje
Provincias de la Ruta:
Asturias
Cantabria
Guía del viaje
Día 1
Día 2
Built by Alphonse the Third for his retirement, it was consecrated in 893. It has a basilical plan with three naves covered by a barrel vault of four sections separated by semicircular arches upon square pillars, with a flat tripartite chevet; the central chapel somewhat higher; a stand over the lobby and the central portico. Windows wth dry cap and rests of paintings inside. It is one of the most interesting buildings in Spanish Pre Romanesque.
Although
it was consecrated in 921, due to its characteristics it is considered to
belong to the period of Alphonse the Third. It has a basilical plan with three
naves with three separated sections by semicircular arches in brick upon square
pillars, with flat tripartite chevet; the central chapel somwehat higher with
enclosed round of arches upon columns with capitals and rest of paintings.
Día 3
Built during the first third of the 10th century, possibly by Mozarabic monks, it is a church with a Greek cross shaped plan, with the entrance on the southern side, three apses and two compartments at each side of the main nave, for what it looks like a basilical plan. The inside is highly original, completely vaulted with pillars with attached columns and capitals of great quality. It is one of the most important works in Mozarabic art.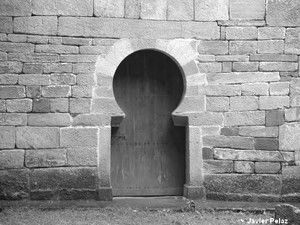 This small hermitage, of which there are not any documentary references until 1119 and that was until recently in dilapidated conditions, is located near Bostronizo. Built in very regular stone bond, it consists of a single nave and an apse, separated by a beautiful very pronounced horseshoe arch.The lobe modillions of the roof, heavily decorated, are also very interesting.
Portal de información sobre la Historia y el Arte medievales, con la descripción de más de 600 monumentos, que ofrece al viajero la posibilidad de preparar los itinerarios de sus viajes a monumentos de ese periodo.