Basílica de El Germo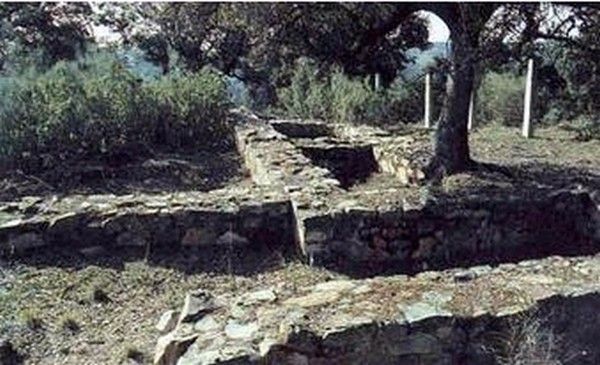 Historic environment
Fifty kilometers from Córdoba to the northwest, in Sierra Morena, the so-called Cerro del Germo is located between two streams. At its feet passes the Camino Real, the old Corduba-Emerita Roman road, so in its time it must have been a much better-known place than it is, unfortunately, now. There, around the year 600, a basilica and what looks like a monastery were built.
Its discoverer was, in 1913, the owner of the farm where they are located, Juan Ruiz Blanco. Following the trail of ancient traditions and legends that spoke of the place, he locates some archaeological remains and after excavating them and considering their importance, he officially informs the Royal Academy of History, making them available to researchers for their study and protection as they are considered a heritage asset. public interest. In his report he communicates that he has found what appears to be a basilica and, a hundred meters away, a group that could be a monastery, also mentioning the extensive ruins of a town one kilometer away, on the so-called Peñón del Lazarillo, which they seem coeval to him. The ruins enter the bibliography as the Visigothic Basilica of Alcaracejos, due to its belonging to this municipal area, later taking the name of its location (this fact will lead to errors) Indicates that it seems to him that the area remains as it was at the time of its abandonment and describes the pieces found, emphasizing their sumptuousness. Among them, in addition to decorative architectural elements, there are multiple burials that remained intact, with inscriptions and grave goods, highlighting two pieces of goldsmithing (one in the Córdoba museum). Unfortunately much of what was found is currently unaccounted for.
He also mentions the baptismal font with two steps that was used in the rite of immersion.
Fifteen years later, F. Hernández and R. Castejón carried out new excavations. In his article on monasteries in the Sierra de Córdoba, the latter published a list of objects found in El Germo, which will enter the Archaeological Museum of Córdoba. In 1949 H. Schlunk la associated with the ruins of San Pedro de Alcántara and Casa Herrera. Gómez Moreno includes the basilica in his list of primitive churches in Spain, adding the sketch of its plan made by F Hernández.
At the end of the 1960s, the German Archaeological Institute intervened on the site. Thilo Ulbert published a detailed description of the ruins in the Bulletin of the Royal Academy of Córdoba in 1971.
Description
The tombstones found help to date the construction of the basilica around the year 600, and its use continued until the 7th century. There are indications that in the 12th century it was already in ruins and that at that time it was inhabited by
new, since there are Islamic ceramics and coins. A hundred meters away is a building of unknown function, which could be a monastery dependent on it and which, based on the ceramics found, would be from the same period.
The plan of the basilica has three naves, with an eastern and a western apse, following the North African model, as do the basilicas of San Pedro de Alcántara, Casa Herrera, Torre de Palma, Bruñel and La Cocosa. Attached to the wall are the remains of pilasters added later, possibly to reinforce the building.
Two rooms are attached to this main building, occupying its entire length, one to the south and the other to the north, so that in total the construction would measure approximately, from apse to apse, 19 meters and 17 meters wide.
The south room also has a double opposing apse and in it there is an oval baptismal font (for the rite by immersion) with access steps on its two longest sides.
There are multiple tombs, whose chronology begins in the central nave, none appearing in the apses. Despite the looting it suffered, some are still preserved.
URBS REGIA
Bibliography
CASTEJÓN; MARTÍNEZ DE ARIZALA, R.. Excavaciones en monasterios mozárabes de la Sierra de Córdoba. 1949. pp. 65-76.; Boletín de la Real Academia de Córdoba, de Ciencias, Bellas Artes y Nobles Artes.Enero – Junio 1949. Año XX – Núm. 61. Ed. Tipográfica Artísitica.Córdoba, 1949.
docplayer.es/69435954-Excavaciones-en-monasterios-mozarabes-de-la-sierra-de-cordoba.html
PALOL,P.. Arqueología cristiana de la España romana, Madrid, Valladolid, Consejo Superior de Investigaciones Científicas, 1967, p.76.
RIPOLL, G.. La arquitectura funeraria de Hispania entre los siglos V y VIII: aproximación tipológica. 1996. pp. 215-224; Spania. Estudis d´Antiguitat Tardana oferts en homenatge al professor Pere de Palol i Salellas.RUIZ BLANCO, J.. La Basílica visigoda de Alcaracejos. 1914. pp. 474; BAHist (nº 65).
www.cervantesvirtual.com
www.cervantesvirtual.com
ULBERT, T.. El Germo, una basílica y un edificio profano de principios del siglo VII. 1971. pp. 149-186.; Boletín de la Real Academia de Córdoba, de Ciencias, Bellas Artes y Nobles Artes. Enero – Diciembre 1971. Año XL – Núm. 91. Ed. Tipográfica Artísitica. Córdoba, 1971..
repositorio.racordoba.es
Archivo Central de la Consejería de Cultura. Inventario de yacimientos arqueológicos de la Provincia de Córdoba. Ruinas visigóticas del Cerro del Germo, 1987.
Archivo Central de la Consejería de Cultura. Inventario de yacimientos arqueológicos de la Provincia de Córdoba. Ruinas visigóticas del Cerro del Germo, 1993.
Archivo de la Delegación Provincial de la Consejería de Cultura de Córdoba. Actualización y Revisión del IYAA 2003. Ruinas visigóticas del Cerro del Germo, 2003.
Portals